Shocks and Strut Service at Koons Easton Toyota
There are a host of signs that can help you decide whether your shocks and struts require repair. Factors range from passenger comfort to excessive nose drives while braking to continued bouncing after going over bumps or holes. Regardless of whether you're certain your vehicle requires a shock and strut change or you're looking to have our service team determine that, Koons Easton Toyota is ready to help!

Shock & Strut Service Easton
There are a few notable ways for drivers to determine whether your shocks are in less than ideal condition. Cambridge, MD drivers considering replacing shocks can look to a variety of exterior telltale wear and tear signs. Visible fluid leakage is one of the main signs that your shocks are in need of repair. Fluid leakage can be seen when looking at the spring/coil on your shocks. This spring is filled with fluid that helps absorb bounce. If there are visible signs of leakage from these springs, your shocks likely need maintenance or replacement.
Shock & Strut Replacement Symptoms
Dented or damaged shock/body
Fluid leaks
Cupped tires
Continued bounce after going over holes or speedbump
Heavy nosedive while braking
Bumpy/harsh ride quality
Poor steering
Toyota Shock and Struts
Tired of driving around in a veritable bouncy house of a vehicle? Stop by Koons Easton Toyota! Our team of seasoned service professionals is ready to help drivers from Salisbury to Cambridge, DE with nearly any strut and shock repair needs! Whether you're looking for a basic inspection to determine whether you require more extensive work or you already know your struts and shocks require work, Easton area drivers can look to the Koons Easton Toyota service team for assistance! Schedule a service appointment today!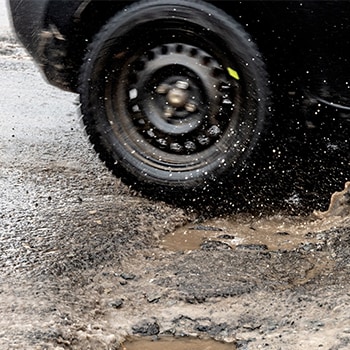 We're sorry, we do not currently have any specials published. Please check back soon or contact us for more information.